Staff Assembly Meeting of the Full Body
North Carolina A&T University in Greensboro, NC
Monday, July 30th – Tuesday, July 31st
The meeting will begin at 12p.m. (noon) on Monday, July 30th. Delegates should be ready to start no less than 15 minutes before the meeting begins. Requests for rooms on Sunday evening will be limited and based on distance.
Agenda
Minutes
Coming soon.
The registration form is available at https://myapps.northcarolina.edu/staffassembly/events/meeting-sign-up/
Meeting Location
Academic Classroom Building (ACB)
1602 Bluford Street
North Carolina A&T University
Greensboro, NC 27411
Map
Downloadable map

Academic Classroom Building (ACB) is #68 on the PDF map
Parking
Noble Hall – Lot 21 (Number 42 on map)
Using Google maps enter 133 N Obermeyer St, Greensboro, NC 27401 as the address.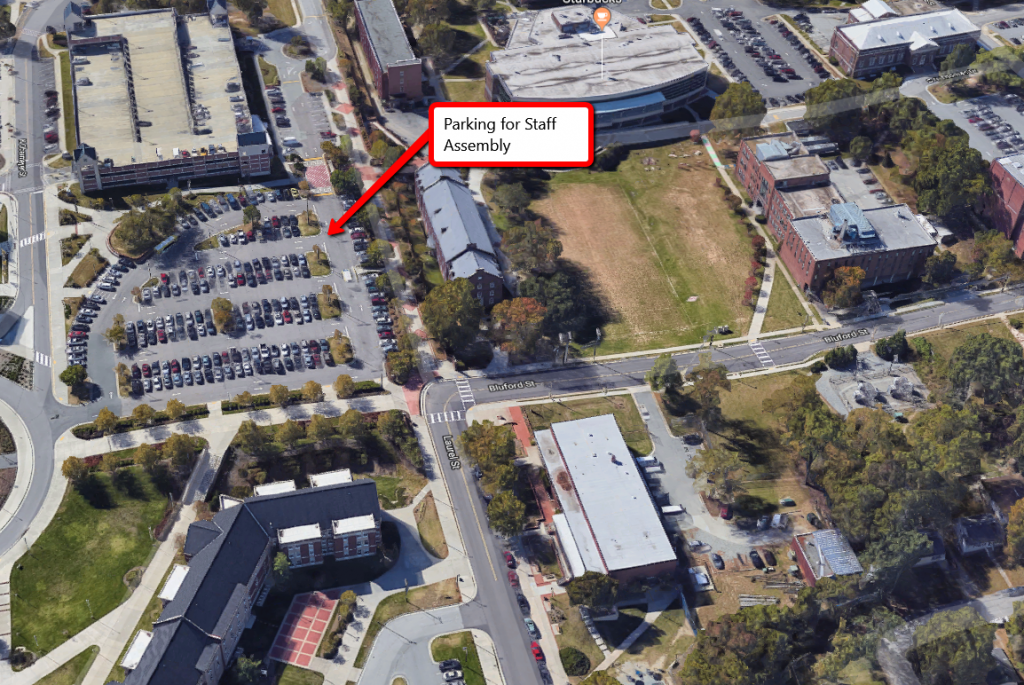 WebEx Information
Video conferencing will not be available.
Lunch for Monday and Tuesday
Assortment of sandwiches, chips, and drinks
Dinner Menu for Monday
On your own.
Hotel Information
Hampton Inn and Suites
Greensboro Coliseum Area
3033 W Gate City Blvd.
Greensboro, NC 27403
T: (336) 553-1818 F: (336) 553- 1177
FAQ
Q: How do I sign up?
A: Visit the Meeting Sign Up page.
Q: When will I find out about rooms?
A: Room information will be provided no less than one week prior to the meeting.
Q: I am not certain if my information was received. How can I find out?
A: Go to the Meeting Registrations page and see if you are listed. You should have received an email confirmation at the time of registration.
Q: Will there be a way to video conference into the meeting?
A: Yes, we are working on that and details will be provided soon.
Q: What if something happens and I am later than expected or cannot attend?
A: Contact Crystal Woods, Staff Assembly Secretary at woods@ncssm.edu and your Campus Chair.
Q: Can I have a room reserved for Sunday evening?
A: UNC System Office will provide a room for any of the 3 campus delegates or a member of the Executive Committee under the following conditions:
Allowed: Hotel room for Sunday night is ok for round-trip mileage greater than 330 miles
Allowed: Hotel room for Sunday night is ok for round-trip mileage between 100 and 330 miles ONLY IF the event starts BEFORE 10:30 am
Allowed: Hotel room for Monday night is ok for round-trip mileage less than 100 miles ONLY IF the event starts BEFORE 8:30 am
Roundtrip Mileage – overnight stay restrictions (mileage will always be paid)

Campus

City

CH/GA

NCCU

NCSSM

NCSU

NCA&T

UNC-G

FSU

WSSU

UNC-SA

UNC-P

ECU

UNC-C

UNC-W

ASU

ECSU

UNC-A

WCU

CH/GA

Chapel Hill

0

20

28

50

110

112

144

162

166

204

222

274

302

336

384

458

550

NCCU

Durham

20

0

10

44

108

110

178

162

164

228

218

272

300

334

378

456

548

NCSSM

Durham

28

10

0

52

102

104

174

155

158

268

218

266

308

328

386

452

542

NCSU

Raleigh

50

44

52

0

148

156

132

200

204

214

172

308

256

372

338

496

586

NCA&T

Greensboro

110

108

102

150

0

4

184

62

66

262

320

170

408

234

486

358

448

UNC-G

Greensboro

112

110

104

148

4

0

188

50

54

254

320

164

410

224

488

348

438

FSU

Fayetteville

144

178

174

132

184

188

0

232

226

94

222

264

188

406

414

528

620

WSSU

Winston-Salem

162

162

155

200

62

50

232

0

6

288

372

136

460

174

538

300

392

UNC-SA

Winston-Salem

166

164

158

204

66

54

236

6

0

288

376

136

464

174

542

300

390

UNC-P

Pembroke

204

228

268

214

262

254

94

288

288

0

302

220

184

454

490

494

574

ECU

Greenville

222

218

218

172

320

320

226

372

376

302

0

480

224

542

184

665

756

UNC-C

Charlotte

274

272

266

308

170

164

264

136

136

220

480

0

402

234

644

266

344

UNC-W

Wilmington

306

302

308

256

408

410

188

460

464

184

224

402

0

632

424

756

808

ASU

Boone

336

334

328

372

234

224

406

175

174

454

542

234

632

0

710

168

270

ECSU

Elizabeth City

390

384

386

338

486

488

414

538

542

490

184

644

424

710

0

832

924

UNC-A

Asheville

460

458

452

496

358

348

528

300

300

494

665

266

756

168

832

0

105

WCU

Cullowhee

550

548

542

586

448

438

620

392

390

574

756

344

808

270

924

105

0

Allowed: Hotel Sunday night is ok for roundtrip mileage greater than 330 miles (in yellow above)

Allowed: Hotel Sunday night is ok for roundtrip mileage between 100 and 330 miles ONLY IF the event starts BEFORE 10:30 am

Allowed: Hotel Monday night is ok for roundtrip mileage less than 100 miles (in red above) ONLY IF the event starts BEFORE 8:30 am