Event Schedule
September 26, 2023
7:00 a.m.
Check in Begins
Putting green and driving range open.
Chancellor's Cup Golf Shop opens – $75 credit for every registered golfer and can be used anytime during the year.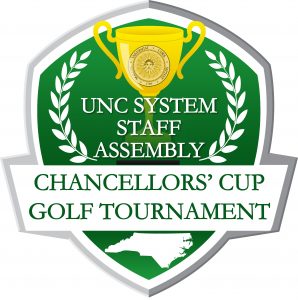 9:00 a.m. – Captain's Choice
Shotgun Start.
Boxed lunch provided during play.
Snacks available at tents throughout the course.

In a team of 4 players, each player tees off on each hole. The best of the tee shots is selected and all players play their second shots from that spot. The best of the second shots is determined, then all play their third shots from that spot, and so on until the ball is holed. In the case a team has only 3 players, each player will rotate who takes the 4th shot from each position on the course.
Tie breaker – In the event that multiple teams tie, the better score on the lowest handicap hole will be the tie breaker. This will continue on the next lowest handicap hole(s) until there is a winner.
Mid-Afternoon
As play ends the reception begins.
Complimentary food and drink at clubhouse
Cash Bar
Conclusion of Play – Awards Ceremony – Awarding of the Cup!
Results and Prizes Announced
1st Place Team
Chancellors' Cup Campus Trophy – display for one year
$150 gift cards for all 4 players
2nd Place Team
$75 gift cards for all 4 players
3rd Place Team
$50 gift cards for all 4 players
Closest to the Hole All Par 3's
Golf Umbrella and Back Pack Cooler
Longest Drive Male (11) & Female (4)
Golf Umbrella and Back Pack Cooler
Longest Putt Holed (18)
Golf Umbrella and Back Pack Cooler
Hole In One Contest
$15,000 "Hole In One" Contest:
$ 5,000 for the Player
$10,000 to the JBR Memorial Scholarship Fund
Putting Green Contest
$10,000 "Putting Green" Contest (Pending Sponsorship):
$ 5,000 for the Player
$ 5,000 to the JBR Memorial Scholarship Fund