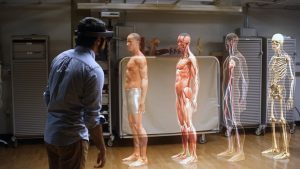 I had a very interesting, and promising, meeting with the HoloLens team at Microsoft last week. Parenthetically, it was a nostalgic visit for me, as the meeting was in Building #6…the first of about a dozen buildings that were my home away from home during my 20 years at Microsoft.
I must admit, up until this point in time, I had been rather dubious about the value of augmented and virtual reality.  This has mostly been caused by a lack of pedagogical content available for use on HoloLens or any of the other mainstream VR platforms that I've experimented with.
My meeting with the HoloLens team gave me my first real glimpse of how VR might soon be a viable tool in education. While it still may not be ready for prime time today, I do believe it has turned a corner and should be considered for our Digital Learning Initiative.
Here are some education videos that Microsoft shared with me.  I think that they are very compelling, especially, the healthcare videos.  They are well worth a watch.
-Jim