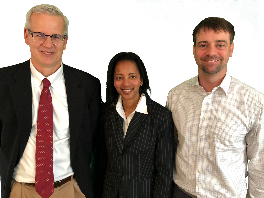 A successful collaboration between Academic Affairs and IT, driven by Dr. Rollinda Thomas, CTO Eric Ellis and Faculty Fellow Dr. Ben Powell, resulted in a System-Wide agreement with EMSI.  EMSI is a labor market analysis tool used by many of our universities to forecast demand for new degree programs. The team was able to create a licensing agreement that allows all of our universities to purchase this service at $4,500 rather than the almost $15,000.  Across the ten initial instances of its use, this saves the System $100,000 annually.
Here is the specific information from Dr. Rollinda Thomas that you need to take advantage of this program:
Our team members at the UNC System Office negotiated a system-wide contract with Economic Modeling Specialists International (EMSI) to provide access to their Analyst software. The product provides labor market data related to academic programs. This is helpful if an institution wants to determine labor market demand for their programs. The data supports evidence-based program planning and development. If institutions are proposing a new academic program to the Board of Governors, EMSI's data provides a consistent source for evidence of societal demand. Information about Analyst is attached.
In the past, access to Analyst software for a single user at an institution would cost $15,000 per year. Given the new system-wide contract, the price would be $4,500 per user, per year for three years, if we have 10 or more total users across the system. If we have 1-9 total users across the system, the price will be $5,000 per user, per year for three years.
Please contact me if you are interested in participating in the three-year agreement. I've attached documents for your signature as Provost, including the system-wide agreement, an order form for access to EMSI's Analyst software, and a Letter of Commitment (LOC) form. Please note that the Letter of Commitment can be signed by a Provost instead of an Information Technology (IT) representative. This is often the case if the site license will be used by your Academic Affairs Office instead of IT. We understand additional time may be needed for you to review the documents beyond the due date on the LOC.
We hope this will provide a much-needed service and considerable cost savings to our institutions.
If you have any questions, feel free to contact me at (910) 303-2763 or e-mail rathomas@northcarolina.edu.
Have a wonderful day!
Rollinda
Rollinda Thomas, ph.d.
Associate Vice President for Academic Affairs
Division of Academic Affairs
910 Raleigh Road | Chapel Hill, NC 27514
919.843.4538