Fayetteville State University
Res Non Verba "Deeds Not Words."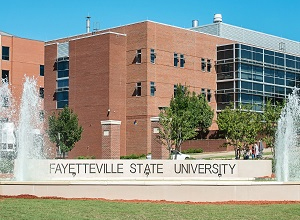 FSU targets diversity in gender, race, and age. The geographic proximity of the city of Fayetteville to the second-largest military base in the world (Ft. Bragg) has made FSU an affordable and viable option for individuals seeking a college education in the Sandhills region. At FSU, we often recruit and admit military-affiliated students who are typically nontraditional regarding age (24-30). Many of these individuals have served our country and see teaching as a viable option once they complete their military service. FSU targets minority students in its recruitment, and the proposed Teaching Fellows' Program will place emphasis on black males in STEM areas. Through this three-prong approach to recruitment: military nontraditional, STEM, and Black males, we believe that FSU is poised to make an impact as it relates to broadening college access and diversifying the teaching profession.
Teaching fellow students who attend FSU will be a part of the newly revised Student Success Center at FSU. This program pairs students with faculty mentors and provides students access to academic resources and unique experiences. Teaching Fellows will be engaged with education research faculty and will gain exposure through practicum and professional development workshops that support teachers' learning and understanding.
Orientations into the program, along with quarterly check-ins and townhalls, are used to communicate with students and to keep them on track for graduation. The Teaching Fellows Scholarship program would have its own Program Coordinator. The program coordinator will meet with participants and host monthly meetings. The Fellows would be established in a living and learning community together on campus and off where possible. Students will also be placed at the same school within the LEA and school of choice to assist with exposure to employment opportunities and support throughout the process. As the only HBCU housing a NC NTSP program, the Regional Director on campus would monitor the candidates during the induction period and provide resources as appropriate.
The institution hosts an annual Excellence in Teaching Conference in the spring and a week-long event for American Education Week in the fall. Both events promote excellence in teaching by providing informative sessions that motivate educators to continue to make a profound and positive impact on children's lives in our communities. Candidates, faculty, staff, and public-school teachers and community members are invited to professional development/training sessions offered by various experts/specialists in the field. Faculty at Fayetteville State University engage in culturally responsive teaching practices that utilize multiple modalities of learning. Faculty also promote reflection and assessment by employing an inquiry-based learning model instead of traditional teaching methods. Also, faculty members create a sense of community through building relationships and providing spaces where students can express a diversity of thought without fear of being ostracized.
Degree Pathways
Mathematics (9-12) BS & MAT
Biology (9-12) BS  & MAT
Special Education (K-12) MAT
Contact
Dr. Peter Eley
peley@uncfsu.edu
(910)672-1515