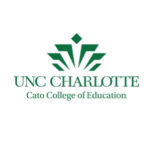 University of North Carolina at Charlotte
Be a part of the legacy.  Be a part of a brighter future.
The Teaching Fellows Program at The University of North Carolina at Charlotte is uniquely positioned in proximity to one of the nation's fastest growing urban school districts. With access to the newly completed Blue Line Light Rail system, students at UNC Charlotte can travel easily to the city's urban center to access a variety of schools, cultural attractions, restaurants, and historic sites. The Cato College of Education is nationally recognized for innovative programming and student achievement. Teaching Fellows will experience support from academic advisors, engaged professors, and a diverse community of future educators.
Eligible Teaching Fellows Pathways (Licensure Areas Offered)
B.A. in Special Education
B.A. in Special Education and Elementary Education
B.A. in Middle Grades Education (Science and Math)
Major in Math/Sciences, Minor in Secondary Education
MAT in STEM Related Content Area
MAT in Special Education (K-12)
Campus Enrichment Overview:
In the program at UNC Charlotte, Teaching Fellows will have the opportunity to participate in education-related study abroad, access to a variety of school settings, and activities that will assist in their academic, social, and cultural development. They will also participate in service-learning as a way to understand the particular needs of underserved student populations.