Erskine B. Bowles Staff Service Award
The goal of the UNC Staff Assembly is to improve communications, understanding and morale throughout the whole of our respective communities and to increase efficiency and productivity in campus operations. In as much, the Erskine B. Bowles Staff Service Award is given to a permanent, full-time staff member who has shown exemplary understanding, empathy and devotion to mankind and whose accomplishments are consistent with the goals exemplified by Erskine B. Bowles during his tenure as UNC President and in accordance with the University's public service mission.
Public Service in the University of North Carolina
Service to the state has always been a core part of the University's mission. Our staff, like their faculty colleagues, are engaged in public service activities on our campuses and throughout the state which makes the University an integral part of the state's economic and cultural life. Staff serve the people of North Carolina by directly engaging with the specific needs of businesses, nonprofit groups and governments bringing to life the strategies stated in the UNC Strategic Directions Plan: Our Time, Our Future. UNC must continue to take a prominent role in working within communities to assist in meeting the needs of today's society.
Selection Criteria
Permanent staff member from any of the 17 institutions and University affiliate groups
Demonstrates exceptional customer service
Provides extraordinary assistance by providing additional help outside of normal job responsibilities throughout the campus and surrounding communities
Displays selfless acts of giving to the campus and community events
The creativity and impact of a nominee's achievements are of a magnitude that greatly exceeds the normal accomplishments of a staff employee
Nomination Process / Required Items
A Letter of Nomination / Cover Letter from Campus Human Resources Department with a statement of the candidate's contributions and demonstrated record of public service to the campus / local community
A statement of the highlights of the candidate's recent accomplishments related to the award and how it contributes to the overall welfare of the campus / local community
Letters of Support (maximum 3) from peers, supervisor, students, campus administration, local community members, representatives from local businesses / organizations
Nominee's biographical information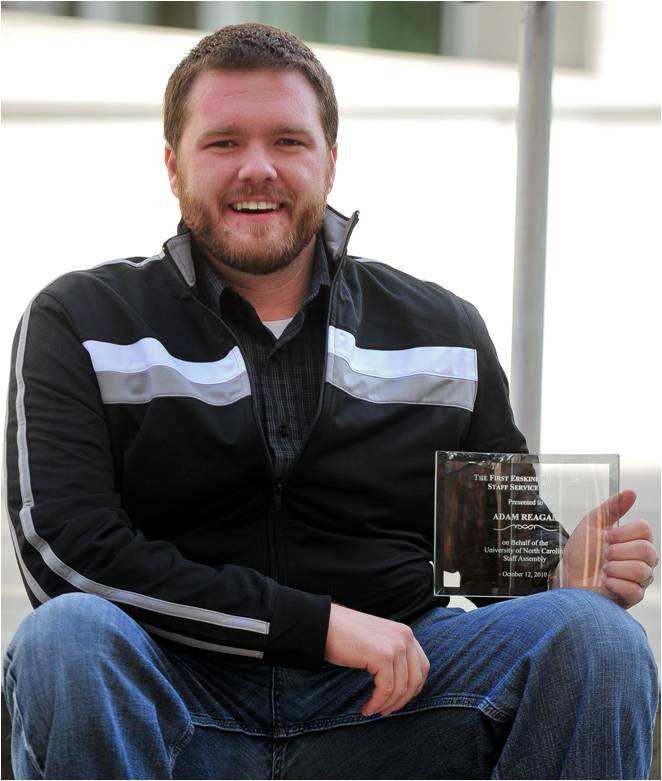 Adam Reagan
2016 Erskine Bowles Award Recipeint
Adam Reagan
Adam Reagan, Information Technology Services Applications Analyst from the University of North Carolina at Asheville was presented with the first Erskine B. Bowles Staff Service Award. Reagan was honored for his agility for life, ability to overcome adversity, and his outstanding commitment to UNC Asheville, the Asheville Community, the UNC system and to humanity as a whole. "Adam is a humbling person" said Chris Miller, UNC Asheville health and safety officer, who serves on the assembly with Reagan. "Every time I'm around him, I find out something amazing that he's done." Those amazing things didn't stop when Reagan got some bad news last spring. While running a 5K, Reagan lost consciousness and suffered from puzzling short-term memory loss. Doctors were baffled and ordered more tests. Finally, they discovered a mis-routed artery. Reagan's condition did not require surgery and the doctors advised that he could continue his lifestyle. After his treatment, Reagan became a bone marrow donor who was selected from the National Bone Marrow Registry as a match for an anonymous cancer patient. Reagan's other achievements include spearheading the Have A Heart Campaign at UNC Asheville; serving as co-chair of the American Cancer Society's Relay for Life; and volunteering with the State Employees' Combined Campaign.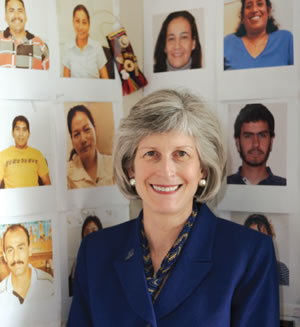 Julie Heinitsh
2016 Erskine Bowles Award Recipient
Julie Heinitsh
By day, Julie Heinitsh is either on the campus of UNC Asheville or traveling throughout the Southeast meeting with alumni and potential donors. After work, you'll likely find her leading volunteer non-profit boards that help make the community a better place.
The native Texan takes the award in stride and knows she's not alone among students, faculty and staff who are living the University's commitment to volunteerism every day.
"The University views itself as being an integral part of the community, and I think one of the ways it exhibits that is the countless faculty, staff and students who are volunteering in all kinds of ways," she said. "There are a lot of unsung heroes in our campus community." In addition to serving as chair of the Literacy Council of Buncombe County Board of Directors, Heinitsh volunteers with the Junior League of Asheville, St. Phillips Episcopal Church in Brevard and UNC Asheville Athletics' Mentor Volunteer Program.
The volunteer ethic was instilled early in her life, Heinitsh said. Her parents and grandparents were actively engaged in several community groups and considered themselves public servants.
But volunteerism truly hit home in college. A skilled college tennis player, she became involved with the Texas State Special Olympics, lending a hand at events and eventually coaching.
Today, Heinitsh credits the University and her colleagues in part for helping her continue her volunteer work. And because of the spirit of service that is instilled in UNC Asheville students, faculty and staff, she's often in familiar company when she joins a community board. For example, in her role as board chair at the Literacy Council, Heinitsh works closely with Amanda Edwards (UNC Asheville '99), an alumna and executive director of the council, as well as several other alumni board members.
Previous Award Recipients
| Year | Recepient | University | Picture |
| --- | --- | --- | --- |
| 2015 | James Griffin | NC A&T State University | |
| 2014 | Billy Edringston | NC A&T State University | |
| 2013 | Rudy Anderson | Winston Salem State Univeristy | |
| 2012 | Edwin H. Martinat III | UNC School of the Arts | |
| 2011 | Julie Heinitsh | UNC Asheville | |
| 2010 | Adam Reagan | UNC Asheville | |