Erskine B. Bowles Staff Service Award
The Erskine B. Bowles Staff Service Award was established in 2010 by the UNC Staff Assembly to recognize staff employees whose accomplishments are consistent with the goals of the University and the University's public service mission.
NOMINATION PROCESS
All university employees are encouraged to nominate a deserving colleague for this award.
SUBMISSION PERIOD November, 15, 2021 – January 21, 2022
Provide a statement that highlights the candidate's accomplishments and describes how the candidate contributes to the overall welfare of their university organization and their surrounding community.
Answer open-ended questions to provide evidence the candidate meets the selection criteria
You may also provide additional letters or documents of support from peers, supervisor, students, campus administration, local media or community members, and/or representatives from local businesses/organizations.
All nominations are shared with the nominee upon submission.
SELECTION CRITERIA
Must be a permanent staff member (SHRA or EHRA non-faculty) of any of the 17 UNC constituent institutions, the UNC System Office, or a recognized University affiliate
Exemplifies excellence in their professional interactions and customer service within their university employment
Provides extraordinary service to their campus and UNC system outside their job description
Provides exemplary service to their surrounding community
WHAT RECIPIENTS RECEIVE
A memento,
An award of $1000,
A reception with the Staff Assembly and UNC leadership, and
A short video about their service produced by UNC-TV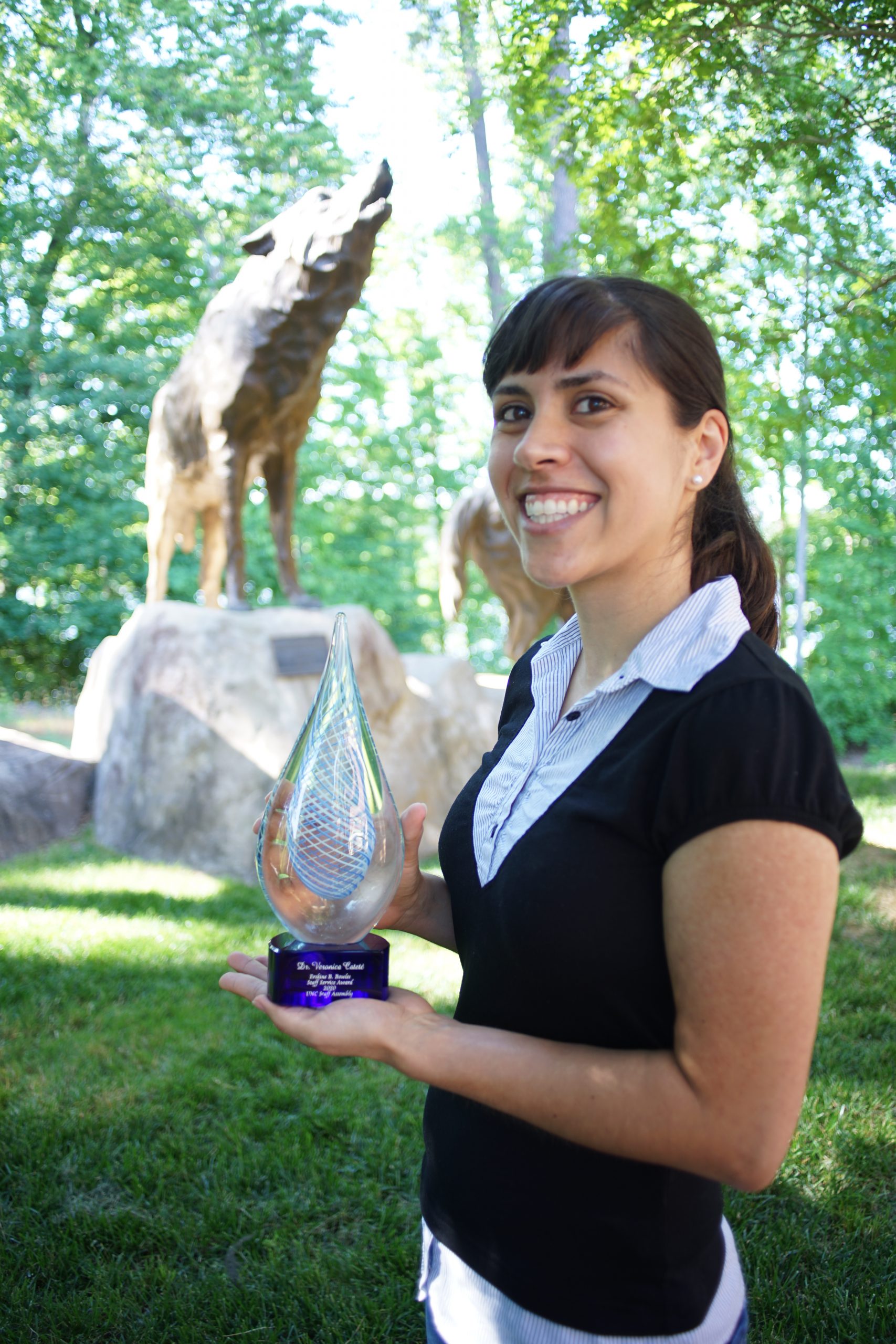 ---
Erskine B. Bowles Staff Service Award 2020
2020 Erskine Bowles Award Recipient
Recipient, Dr. Veronica Cateté
Dr. Veronica Cateté exemplifies every facet of the Erskine B. Bowles Staff Service award through her dedication to her profession, her campus and the greater community. A research scientist with the Computer Science Department at North Carolina State University, Dr. Cateté co-mentors graduate students alongside her faculty supervisor. She has proactively sought out trainings on inclusivity, advocacy and suicide prevention to better support students through situations that may have otherwise let them to withdraw from their studies. She is a founding member of diversity task forces, focusing on hiring faculty and recruiting students from diverse backgrounds. She co-directs a Women in Science & Engineering Alternative Spring Break program. Dr. Cateté has made it her personal mission to help foster a sense of belonging and curiosity toward computing in young women and minorities to help give them the knowledge and opportunities to make informed decisions on potential career pathways they might not be aware of.
---
Previous Award Recipients
| Year | Recepient | University |
| --- | --- | --- |
| 2019 | Chris Wallace | UNC-Chapel Hill |
| 2018 | Jeff McQueen | UNC-Chapel Hill's School of Medicine |
| 2017 | Dr. Robert Canida | UNC Pembroke |
| 2016 | Joe Rick | UNC School of the Arts |
| 2015 | James Griffin | NC A&T State University |
| 2014 | Billy Edringston | NC A&T State University |
| 2013 | Rudy Anderson | Winston-Salem State University |
| 2012 | Edwin H. Martinat III | UNC School of the Arts |
| 2011 | Julie Heinitsh | UNC Asheville |
| 2010 | Adam Reagan | UNC Asheville |