Erskine B. Bowles Staff Service Award
The Erskine B. Bowles Staff Service Award was established in 2010 by the UNC Staff Assembly to recognize staff employees whose accomplishments are consistent with the goals of the University and the University's public service mission.
NOMINATION PROCESS
All university employees are encouraged to nominate a deserving colleague for this award.
SUBMISSION PERIOD October 3, 2022 – November 11, 2022
Provide a statement that highlights the candidate's accomplishments and describes how the candidate contributes to the overall welfare of their university organization and their surrounding community.
Answer open-ended questions to provide evidence the candidate meets the selection criteria
You may also provide additional letters or documents of support from peers, supervisor, students, campus administration, local media or community members, and/or representatives from local businesses/organizations.
All nominations are shared with the nominee upon submission.
SELECTION CRITERIA
Must be a permanent staff member (SHRA or EHRA non-faculty) of any of the 17 UNC constituent institutions, the UNC System Office, or a recognized University affiliate
Exemplifies excellence in their professional interactions and customer service within their university employment
Provides extraordinary service to their campus and UNC system outside their job description
Provides exemplary service to their surrounding community
WHAT RECIPIENTS RECEIVE
A memento,
An award of $1000,
A reception with the Staff Assembly and UNC leadership, and
A short video about their service produced by UNC-TV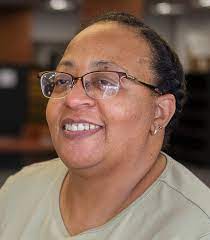 ---
Erskine B. Bowles Staff Service Award 2021
2021 Erskine Bowles Award Recipient
Tyna Michelle Gordon, North Carolina Central University 
Faces of NCCU: Michelle Gordon, School of Law Library Technician Assistant
Governor Award of Excellence in Customer Service
---
Previous Award Recipients