2022 Behavioral Health Convening Agenda
| Time | Session Information |
| --- | --- |
| 8:00 AM | Registration and Poster Session |
| 9:00 AM | Opening Plenary with Dr. Benjamin Locke |
| 10:25 AM | Session 1 |
| 11:25 AM | Session 2 |
| 12:15 PM | Lunch and Plenary with Dr. Stephanie Pinder-Amaker |
| 1:35 PM | Session 3 |
| 2:25 PM | Break |
| 2:40 PM | Session 4 |
| 3:40 PM | Session 5 |
Download Our Conference App for Detailed Schedule!
Download the "EventsXD" app by EventsXD Corporation through your phone's app store. You can find it by searching "eventsxd."
Sign up as a new user. Enter your preferred email and password. Password must have one upper case letter, one lower case letter, one number, and one special character.
Navigate to the search feature. Search: "2020 Behavioral Health Convening"
Open the event titled "2020 Behavioral Health Convening." You will see the UNC System and NC Community College Logos as the event picture.
(Note:  When you return to the app, the event will be saved under the "My" events section.)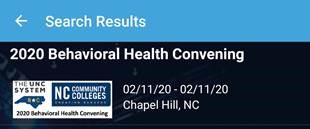 Session 1 Topics
Removing Obstacles for Neurodiverse Student Achievement: Designing Post-secondary Learning Environments that Support Student Success
The Impact of Advese Childhood Experiences on College Student Health and Well-Being
Supporting the Wellness of Diverse Graduate Students: A Pilot Curriculum
Peer Support in University Mental Health: UNC Chapel Hill Case Study of Challenges and Opportunities for Collaboration
A Dual Diagnosis Hiding in Plain Sight: Autism Spectrum and Substance Use Disorders
Eating Disorder Treatment Team: The Need for Interdisciplinary Case Management Approach
Moving "I am First Gen" Forward: Supporting First Generation College Students
Session 2 Topics
Leveraging Student Leaders to Address Holistic Health: Implementation of the Be Present Empowerment Model
Stigma on Campus: Impacts on Help Seeking
ACCESS: An Evidence-Based Treatment Program for College Students with ADHD
April 30th and Beyond – UNC Charlotte's Mental Health Response to a Campus Tragedy
Lessons Learned: 4 Years of the Chapel Hill Campus & Community Coalition
Addressing the Behavioral Health Needs of Graduate Students at a UNC System Campus
iGen Has Arrived: Exploring How to Best Serve this Generation in Higher Education
Session 3 Topics
Guidance about Emotional Support Animals
Managing Mental/Behavioral Health Issues from the Student Health Services Perspective
Nash CC: Serving the Whole Student: a Data Driven Trauma-Informed Approach
Research-Practice Partnership on Social, Emotional, and Academic Well-Being at NCSSM: Using Research to Inform School Efforts to Support Student Well-being
Tackling Prescription Drug Use Through Integrative Health Care
Two Heads are Better than One: When clinical and non-clinical case managers collaborate in a Crisis Management Process
Brief Counseling and Transactional Analysis: A 6 Session Model for Change
Session 4 Topics
Campus and Community Resources for Students in Distress and Crisis: Our Community College Counseling Model
Postvention: How to Engage Your Entire Campus
UNC-Chapel Hill Mental Health Task Force: Process, Challenges, Recommendations and Initial Outcomes
Learning how to RESET: Providing a Space On Campus for Students in Recovery
Dollars and Sense: Demonstrating The Value of Collegiate Recovery on a College Campus
Bridging the CAP(s): Counselor-in-Residence as Strategic Campus Partnership
Session 5 Topics
Implementing Mental Health First Aid Training in North Carolina's University and Community College Systems
First Things First: Student Affairs Role in Maslow's Hierarchy of Needs
Supporting Student Mental Health: Using Wellness Coaching to Promote Accountability, Resilience, and Community
Update on a 5-Year Grant for Local and NC Partnerships in Substance Use Prevention
Reaching Out and Looking In: Diversity/Equity Efforts at WCU CAPS
Stress Beyond the Syllabus: A Conversation About Student Wellness and Academic Performance