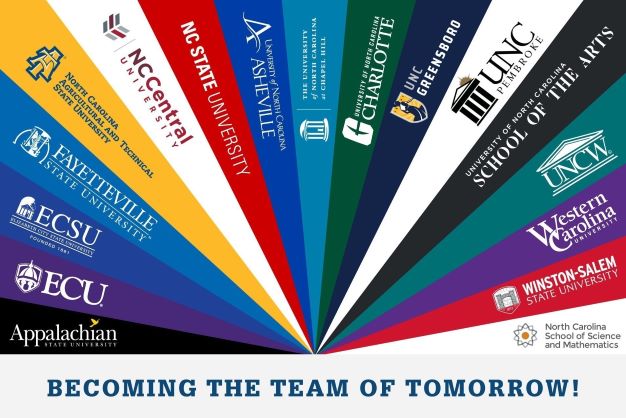 2022 UNC System Finance Conference
MARCH 7-9th
CO-HOSTED BY: NCSU & NCCU
Airport at Research Triangle Park
4700 Emperor Boulevard
Durham, NC 27703
HOTEL Registration
A block of rooms has been set up at the newly renovated Sheraton Imperial Hotel at a rate of $173.00/night. This rate expires on February 11, 2022.
Please use the following website to reserve your room:  2022 Finance Conference Hotel Discount (**You will need to update the dates to March 7-9th**)
If you have any Hotel Registration Questions, please contact Arianna Williams at  alwill25@ncsu.edu.
Local Area Info
Information will be distributed with registration check-in.
Check out Visit Raleigh  &  Visit Durham
Register – Check-in – Feedback
Navigate to the SCHED website or through the Session Registration page
Find a session you want to attend and click 'Add to my Schedule'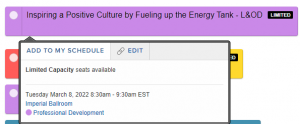 You are able to check in up to 2 min before the session starts, you will see this button.

If you are trying to check-in too early, you will see this message.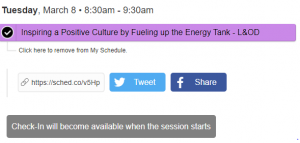 At the end of the session, you will have a chance to submit feedback. *If you are earning CPE credit, you must enter the session code that your speaker provides along with your feedback*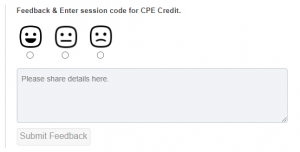 If you have any SCHED-related questions, please contact Lamia Benyamine at lbenyam@ncsu.edu.
COVID
We will be following all CDC Guidelines at the time of the conference in regards to social distancing and masks. (subject to change)

As of 1/19: Face coverings are required indoors unless an individual is actively eating or drinking 

We have limited overall participants and capacity in each room in order to maintain social distancing
Registration
How do I register? Registration is online for attendees and sponsors.
Why am I getting the 'You do not have permission to view this form' message on the registration page? You must be logged in (using your university sign-in in the top right corner) to gain access to the registration form.
What is the conference cancellation/refund policy? If a registrant is unable to attend the conference, one may substitute someone else from the same institution. A written change request must be submitted to Conference registration contact person no later than March 3, 2022. If a registrant is unable to attend and cannot transfer it to another person from the same institution, a written cancellation request must be submitted to Conference registration contact person by February 11, 2022.  
What happens if I register and do not let the host school know I am not attending and have not paid?  If the registration is not canceled before the cancel date (usually the payment due date unless otherwise indicated) your university will be billed your registration fee.
Can registration be shared between two attendees?  No. Attendees may not share registration.  An attendee must be individually registered for the conference regardless of how many sessions or days they plan on attending.
*For any other registration-related questions, please contact Heidi Kozlowski & Misty Wilson – hmkozlow@ncsu.edu, mabaugue@ncsu.edu
Sessions/CPE
What should I wear? Dress is business casual during session hours. For the welcome reception and hospitality room events, attendees may elect to wear more casual attire.
How is this conference organized? The conference is governed by a board of directors.  Each NC University is represented on the Board with one Finance person and one Systems/Technical person. A Planning Committee is organized each year according to the By-Laws. See the Board webpage for a list of board members and to find a copy of the By-Laws.
Will I receive Continuing Professional Education (CPE) hours?  If so, how do I receive my CPE certificate?  You may be able to claim up to 10 hours of CPE credits for this conference. The number of credits will vary depending upon the sessions you attend. To obtain your CPE credits you must check-in on SCHED. Upon leaving the session, there will be a code provided to validate your session attendance. This code must be input in the feedback section on SCHED. Participants who attend the full conference should be able to claim up to 10 CPE credits.
What are session facilitators?  Facilitators are usually Conference Board members who are attending a session:
To  introduce the Speaker Name/Session name
Shut the door at the start of the session
Remind people to check-in
Remind people to submit feedback at the end of the session
What are round table moderators?  Roundtable moderators are responsible for organizing topics of interest for discussion. A list of attendees for the Roundtable will be emailed to the moderators prior to the conference.  It is recommended that the moderators do the following:
Email the attendee list and ask for topics of interest.
Use these topics to plan the time during your session
Create an Agenda. It will help keep items on topic
Assure during the roundtable that the discussion doesn't get too much off-topic
Try to cover each topic submitted for discussion
Attendees get CPE credit for the roundtable discussion. Roundtables need to be at least 50 minutes.
Keep side conversations to a minimum
*For any other session/CPE related questions, please contact Lamia Benyamine at lbenyam@ncsu.edu
Social Events
Can I bring a guest to any of the social events? No guests are allowed due to capacity limitations and social distancing.
*For any other social event-related questions, please contact Kim Kelley & Blake Kannarr at Khkelley@ncsu.edu, bekannar@ncsu.edu.
*For any Sponsor-related questions, please contact Chanelle Corpening & Amy Mears –cccorpen@ncsu.edu,armears@ncsu.edu
Other
What schools have hosted the conference? First planning meeting:
UNC-GA August 19, 1986   (Jeff Davies, Discussion Leader) First Program Committee: Jane Berg  (ECU)   Tim Jordan  (UNCW)   Clayton Cooke  (ASU)   Ernie Murphrey  (NCSU)   Jeff Davies  (UNC-GA)   Scott Hummel (NCA&T)
| | | |
| --- | --- | --- |
| 1986 | ASU | (First Semi-Annual Conference; November) |
| 1987 | UNCW | (March) |
| 1987(December) | NCA&T | |
| 1988 | UNCA & WCU | (First Annual Spring Conference) |
| 1989 | ECU | |
| 1990 | NCSU | (Held in Dec. because of budget crisis) |
| 1991 | No Conf.—Budget | |
| 1992 | UNCC | (Spring conferences resume) |
| 1993 | UNCW | |
| 1994 | ASU | |
|  1995 | UNCG | |
| 1996 | UNC | First "FRS" Conference (Previously, "IA") |
| 1997 | ECSU | |
| 1998 | NCSA | |
| 1999 | UNCA | |
| 2000 | UNCW | |
| 2001 | ECU | |
| 2002 | UNCC | |
| 2003 | ASU | First UNC Financial Systems Conf. (from "UNC FRS") |
| 2004 | NCA&T | |
| 2005 | UNC | |
| 2006 | WCU | |
| 2007 | NCCU | |
| 2008 | ECU | New Bern |
| 2009 | ECSU | CANCELED due to budget constraints |
| 2010 | ECSU/NC STATE | held at McKimmon Center, Raleigh – budget constraints |
| 2011 | UNCW | CANCELED due to budget constraints |
| 2012 | WSSU | held at McKimmon Center, Raleigh |
| 2013 | UNCC | Held in Charlotte |
| 2014 | UNCW | Held in Wilmington |
| 2015 | ASU,UNCA,WCU | Held in Ashville |
| 2016 | UNCP, FSU. UNC-SO | Held in Fayetteville |
| 2017 | UNCSA, WSSU | Held in Winston Salem |
| 2018 | UNC-Chapel Hill | Durham, NC  Sheraton |
| 2019 | ECU | Greenville Convention Center |
| 2020 | NCA&T & UNCG | CANCELED due to COVID |
| 2021 | NCA&T & UNCG | Virtual Conference |
| 2022 | NCSU & NCCU | Held in Durham, NC Sheraton |