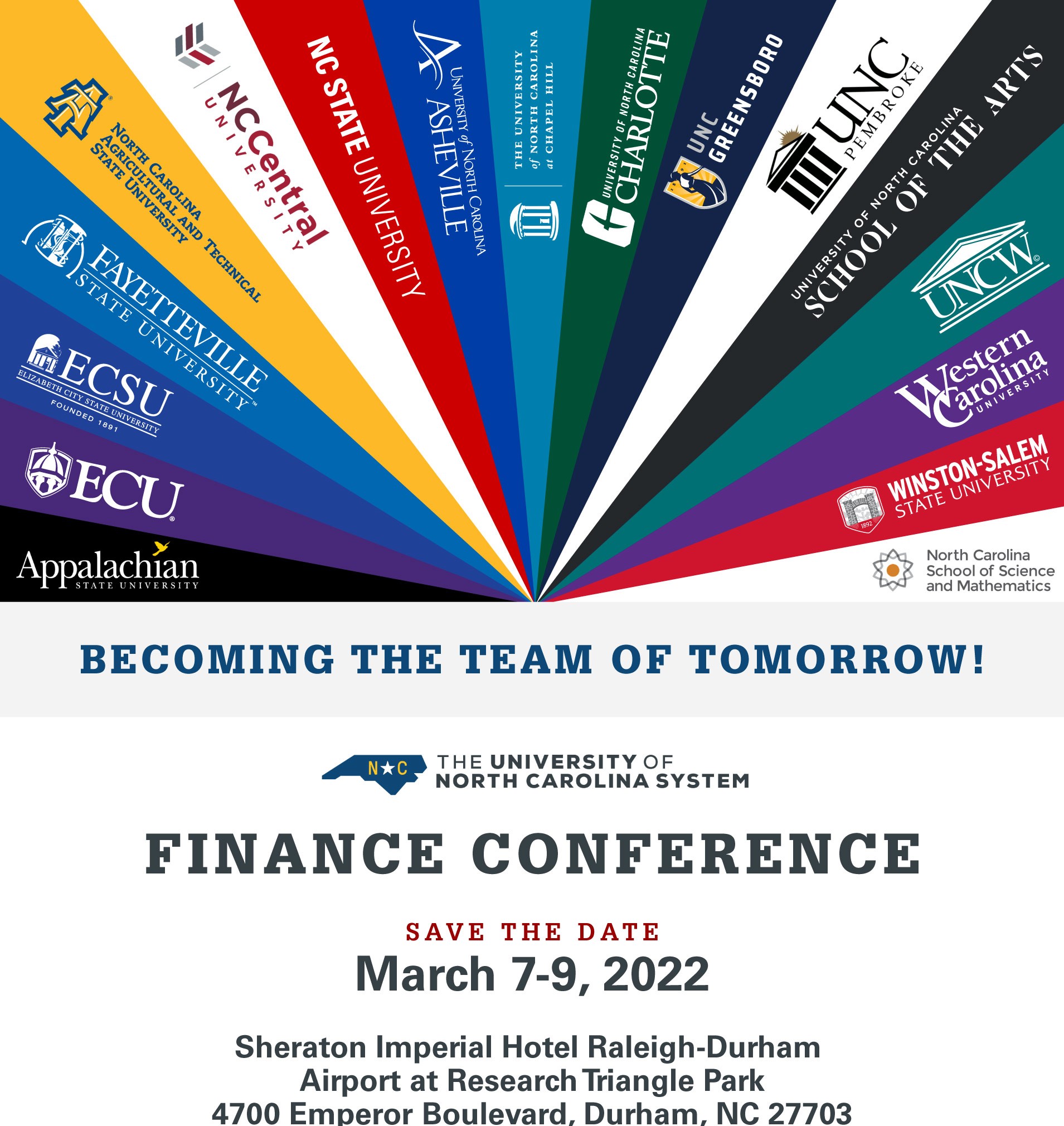 We are extremely pleased to announce that registration for our 34th ANNUAL UNC SYSTEM FINANCE CONFERENCE is now open! After the 2021 virtual conference, we are back IN PERSON. The sessions committee has assembled over 30 of the most requested sessions and roundtables, presented by your colleagues.
IMPORTANT DATES
REGISTRATION IS NOW CLOSED
Prepaid priority registration/refund Feb 1st

New registration deadline FRIDAY, Feb 11th

Final cancellations by FRIDAY, Feb 11th
Final substitutions by March 3rd

If you would like a refund or to substitute for someone else please contact

Heidi Kozlowski & Misty Wilson

 hmkozlow@ncsu.edu, mabaugue@ncsu.edu.
Session Registration is NOW OPEN (Subject to change)
COVID REGULATIONS
We will be following all CDC Guidelines at the time of the conference in regards to social distancing and masks

Effective Monday, March 7, 2022, masks are optional in North Carolina

We have limited overall participants and capacity in each room in order to maintain social distancing
Before you click the 'Register Here!' button below, make note of these important details:
For information on Hotel Registration discounts visit the

 

Help page.
This conference will be spread over 3 days, with multiple general and breakout sessions per day starting on Tuesday. You must register for each session that you wish to attend.
CPE certificates will be sent to attendees via email.  If you require CPE, it is up to you to maintain appropriate documentation as required by the State Board of CPE Examiners.

Participants who attend the full conference should be able to claim up to

 

10

 

CPE credits. Visit SCHED on the

Help page for more info.

You must check in at the beginning of the session using SCHED
Input the session code in the feedback section
Make sure you have logged in (using your university sign-in in the top right corner) to gain access to the registration link below:
The NC State University, NC Central University, and Conference Board leadership team are excited to host this in-person conference and hope you will find it as professionally rewarding as we think it will be. See you on Monday, March 7th when we kick off the registration at the Sheraton Imperial Hotel at 2:30 PM. Explore our vendor exhibits in the lobby and reconnect with old friends at the reception. After breakfast on March 8th, we will begin the sessions as a group with our speaker, NCSU's Dr. Kevin Rice, and "Inspiring a Positive Culture by Fueling up the Energy Tank".